Stephen Romano (The Short Version)
Stephen is a best-selling author, screenwriter, illustrator and independent publisher, whose unique jack-of-all-trades approach to the genres of crime fiction, horror, sci-fi and exploitation film has produced innovative, award-winning work. His short stories, novels, comic books and film projects are characterized by a singular unflinching intensity, often dealing with controversial subject matter, and have garnered international success and critical acclaim from some of the most respected authors and media sources in the world.
Stephen is the screenwriter of INCIDENT ON AND OFF A MOUNTAIN ROAD for Showtime's Emmy Award-winning MASTERS OF HORROR cable series and has written no less than ten feature films, all released internationally by Lifetime Networks, including the top-rated NEXT DOOR NIGHTMARE, WEB CAM GIRLS, DEADLY INFLUENCER and ESCAPING MY STALKER. In addition, he has written official unproduced sequels to the legendary PHANTASM horror film series and the cult classic BUBBA HO-TEP. The latter of those, BUBBA NOSFERATU: CURSE OF THE SHE VAMPIRES, bizarrely remains on his IMDb Pro page more than fifteen years since it was not made. Seriously. Go look.
He is the author of RESURRECTION EXPRESS, a spectacularly-praised high octane thriller novel from Gallery Books and Pocket Books at Simon and Schuster. He is the co-author of BLACK LIGHT, a supernatural fast-action/suspense novel from Mulholland Books at Little Brown and Company, on which he collaborated with top Hollywood screenwriters Patrick Melton and Marcus Dunstan of the billion dollar SAW franchise. His professionally-commisioned e-book for the Amazon Kindle Worlds series, WAYWARD PINES: BEFORE THE FALL, was a popular success, enjoying many months on the best-seller list. Other novels include SAFE IN THE WOODS, METRO and SHOCK FESTIVAL, which features an elaborate alternative 'mockumentary' history of tacky exploitation movies from the 1970s and 1980s, illustrated with "rare memorabilia items" expressly created by Romano and company. The book is one-of-a-kind and highly acclaimed, with one reviewer calling it "a genuine revelation, an event that's rarely if ever been done before: the merging of fact and fiction into something too outrageous to be the truth and too disarmingly ghastly/gorgeous to be anything but."
He is the author and editor of many comic books and graphic novels, including ZOMBIE, THE BEYOND, HOUSE BY THE CEMETERY and GATES OF HELL, based on the films of Lucio Fulci. Romano's controversial original graphic novel BOTTOMFEEDER, based on his unflinching screenplay, was hailed by Dread Central as "A skin crawling experience." Stephen's post-apocalyptic graphic novel WASTELAND 1989, is a hugely ambitious sci-fi mind-bender, accompanied by an audiobook soundtrack produced and directed by Romano himself. His extreme horror series MANIAC and MANIAC 2: ROADKILL, based on the 1980 slasher film, is some of the most intense and confrontational fright-in-four-colors you will ever read.
Stephen is the author of over one hundred short stories, all of which are exclusively presented in the collections THE RIOT ACT (2006), IT'S JUST US (2016), PROJECT 51 (2021) and JULIA STARCHILD (2022), which Stephen publishes through his own imprints at Eibon Press and Animated Alligator Unlimited. His work in this medium is also spectacularly-acclaimed by legendary best-selling authors such as John Skipp, who called it "some of the most urgent, blistering, breathlessly paced, microscopically observed, mordantly hilarious, heartbreakingly hopeless, and utterly devastating bloodbath fiction ever burned into print." Champion mojo storyteller Joe R. Lansdale would like you to know that "Stephen Romano isn't fucking around." That's an actual quote from Joe's introduction to THE RIOT ACT. Check out some of Stephen's other reviews RIGHT HERE.
Stephen's experimental short film EVERY DIGITAL GHOST, made in collaboration with actress/filmmaker Tonya Kay during the lockdown of 2020, was an official selection at several prestigious film festivals, including IndieX, where it received an Outstanding Achievement Award for Mobile Short.
Stephen currently divides his time between publishing, filmmaking and writing many new original thrillers for the Lifetime cable network, such as TRIPLE THREAT (2022), SHE IS NOT YOUR DAUGHTER (2022), and the upcoming KEPT WOMAN KILLER (2023) and A DEADLY MISTAKE (2023).
He lives in Austin, Texas.
The Long Version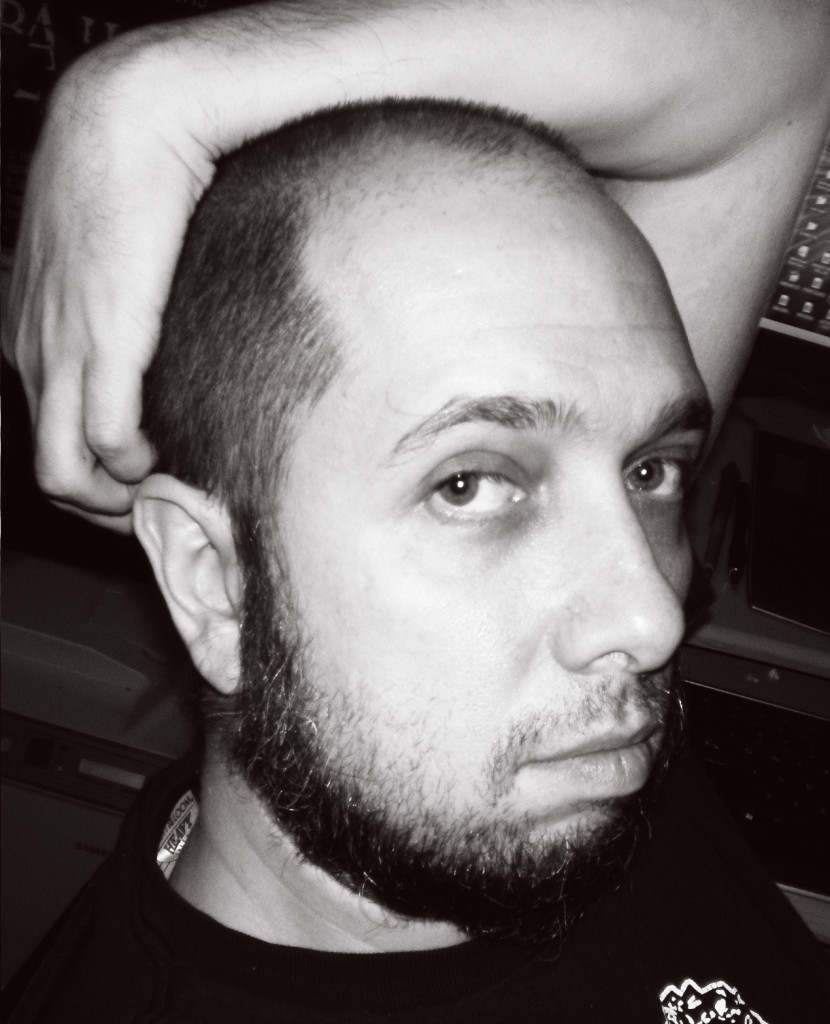 Romano was born at the tail end of 1969, amidst the flurry of a wild rock, blues and folk music scene in Houston, Texas. His father Rock Romano was a fixture on the performance circuit, a celebrated musician and band leader; Rock's groovy groups Sixpentz and The Fun and Games had been heard on the radio nationwide in the 60s, with regional hits such as "She Lied" and "Grooviest Girl in the World." (Rock's early work is now legendary among hardcore addicts of "Sunshine Bubblegum Pop.") Stephen's uncle Joe Romano was also a singer and songwriter, having composed many catchy tunes for Sesame Street and the Muppets, including "Try again" and other classics. Rock and roll royalty were often guests at the home of the Romanos, but young Stephen also had his eye on the movies, brushing shoulders with wild personalities such as Jack Nicholson (on the set of TERMS OF ENDEARMENT) and he even worked an internship under the tutelage of Oscar-nominated filmmaker and screenwriter Al Rinert, director of FOR ALL MANKIND and screenwriter of APOLLO 13. In 1984, at the age of 13, he won a second-place award for filmscoring in a national contest sponsored by producer Dino De Laurentiis, in conjunction with his production of DUNE. (Read all about that RIGHT HERE.) Following in his family's musical footsteps, Stephen started his first band a year later, eventually playing shows alongside such established roadshow rhythm and blues acts as Otis Day and the Knights. (That's the band featured in ANIMAL HOUSE, silly!)
An accomplished musician and studio producer by the time he was 23, Romano made his first significant mark on the world in 1993 when he adapted the million-selling comic series THE MAXX into an innovative "comic book soundtrack" album for Image Comics. A full audiobook dramatization designed meticulously to correspond with the comics as a post-modern "read-along" experience, MAXXIMUM SOUND deployed a full cast of voice actors, original music and sound effects, with Romano as composer, producer, director and even the voice of the psychedelic superhero The Maxx. This project was followed up later that year by the equally-successful adaptation of SHADOWHAWK: THE SECRET REVEALED, also based on a million-selling comics series from Image.
In 1997, Romano's experimental "student project" novel, INVASION OF THE MUTANOIDS, was published in a limited boutique edition of just three hundred copies. That same year also saw the worldwide release of Romano's ambitious concept album/soundtrack companion to the films ZOMBIE and CANNIBAL FEROX, released in conjunction with the FEROX laserdisc from Grindhouse Releasing. Romano also produced a nifty (and now extremely RARE) vinyl 45 record single of his work from the concept album, which was included in the laserdisc packaging as a special bonus item.
In 1998, Romano wrote, designed and edited the ambitious graphic novel/soundtrack album based on Lucio Fulci's most celebrated horror film THE BEYOND. The book/soundtrack was the only official novelization/companion to THE BEYOND, when it was released uncut for the first time in America in 1998 by Quentin Tarantino's Rolling Thunder Pictures. (This project would be revisted and completely reimagined much later in Stephen's carer.) In 1999, Romano also created and promoted the FIRST ANNUAL LUCIO FULCI MEMORIAL FILM FESTIVAL, which ran for several years at the world-famous Alamo Drafthouse Cinema in Austin, Texas.
In 2000, Romano wrote, designed and edited a limited edition graphic novelization of Lucio Fulci's ZOMBIE (a project which would also be revisited later in Stephen's career), and continued to create and promote film festivals at the Alamo Drafthouse, including PHANTASMANIA, which was a three-day retrospective of all four PHANTASM movies, hosted by director/creator Don Coscarelli. This brought Romano's many talents to the attention of the legendary genre film director, who quickly tapped him as a valuable partner in crime. Throughout the decade to follow, Romano would work closely with Coscarelli as a screenwriter and consultant, and even designed a few early promotional ad campaigns for BUBBA HO-TEP. During this time, Romano wrote, designed and edited the critically-acclaimed PHANTASM comic series. The first issue was published in 2002 to rave reviews, though subsequent legal problems prevented further editions.
In 2004, Coscarelli was signed to direct an episode of the Showtime original series MASTERS OF HORROR, and turned to Romano as his right-hand man to script the project and provide valuable insight and collaboration during the making of the film. INCIDENT ON AND OFF A MOUNTAIN ROAD was based on a hard-hitting short story by internationally best-selling author Joe R. Lansdale and was daring in its approach. Though produced originally as "Episode 3" in the series, Coscarelli's movie was deemed the most powerful of the thirteen commissioned from such legendary directors as John Carpenter, Joe Dante and Dario Argento . . . and was chosen to become the first to air on Showtime, in October of 2005. The film was met with across-the-board critical acclaim, becoming the best-reviewed effort of the director's entire career. It remains the most beloved MASTERS OF HORROR short film, along with Carpenter's CIGARETTE BURNS. Romano went on to develop PHANTASM FOREVER with Coscarelli, which was the original proposed final sequel in the popular cult-classic PHANTASM series, but the film was abandoned during pre-production. (Though many shades of his story can be seen in PHANTASM: RAVAGER, hence his "Special Thanks" credit at the end of the film.) Stephen also co-wrote the official BUBBA HO-TEP sequel with Coscarelli, BUBBA NOSFERATU: CURSE OF THE SHE VAMPIRES, which would have starred Bruce Campbell as Elvis Presley and Paul Giamatti as Colonel Tom Parker.
In 2006, Romano returned to the literary world with a limited print run of his shocking book THE RIOT ACT, a "collection" of previously unpublished short stories. It was here that he began to gain traction amongst horror's most respected inner circle, with unanimous rave reviews from such legendary best-selling authors as John Skipp and Brian Keene.
2007 saw the start of Romano's most celebrated, innovative work to date: SHOCK FESTIVAL. The book would become a career-defining milestone for Romano, the culmination of a lifelong dream and his obsession with exploitation cinema, combined with a sure hand for multi-tasking as an implacable creative force. Conceived as an epic "illustrated novel" chronicling the lives and careers of an extended family of B-movie actors, directors, producers and distributors, the book would be presented as an authentic, oversized full-color "coffee table edition," written in the style of hard-hitting, politically incorrect film journalism and illustrated with over 600 pieces of "rare movie memorabilia," all to be created expressly for the book. It was an epic "mockumentary," challenging in concept and designed to dazzle and entertain on every page. The book met with unanimous rave reviews when published in 2008 by IDW and RAW ENTERTAINMENT, even receiving Book of the Month notices from Fangoria and a Fiction Book of the Year Award from Rue Morgue Magazine.
In 2009, Stephen continued to work with Don Coscarelli on a number of as-yet-unrealized projects, while working on many of his own, including many film and DVD campaigns, including 42nd STREET FOREVER VOLUME 5: ALAMO DRAFTHOUSE. For this project, Romano also produced and directed the special features, including a 30 minute documentary about the Alamo, which met with critical acclaim. Romano also found time to pen the hilarious, crude and altogether politically-incorrect novelization of the controversial low budget horror comedy BLACK DEVIL DOLL.
In 2010, Romano was invited to co-produce the official DVD/Blu Ray release of his favorite exploitation film, the Italian sci-fi-fantasy STARCRASH. In his typical style, Romano pushed for greatness, and the project quickly became massive in scope, a two disc set featuring rare footage, interviews, behind-the-scenes extras, deleted scenes and scores of goodies from Romano's personal collection of STARCRASH memorabilia. The disc met with rave reviews and Romano's commentary tracks were nominated for a prestigious RONDO HATTON award.
In the fall of 2011, Romano published BLACK LIGHT through Mulholand Books at Little Brown and Company, a genre-bending supernatural action-suspense novel, written in collaboration with PATRICK MELTON and MARCUS DUNSTAN, the box office champs responsible for writing most of the SAW films. BLACK LIGHT was a "high concept" premise mated with an unforgettable lead character in a battle to the death with all forms of ghostly threats aboard a futuristic high-speed rail train. It got a fun audiobook, too.
Romano went on in 2012 to publish his novel RESURRECTION EXPRESS at the prestigious Gallery Books imprint at Simon and Schuster, home of such luminaries as Stephen King and Don Winslow. EXPRESS bowed to extraordinary rave reviews, making it one of the most acclaimed thrillers of the year. In 2013, Pocket Books published the mass paperback edition of RESURRECTION EXPRESS, just as it was announced that major Hollywood operator Arthur Sarkissian, producer of the billion-dollar RUSH HOUR series, had purchased the screen rights. Sarkissan pacted with genre legend Pierre David, producer of David Cronenberg's VIDEODROME, SCANNERS and Oliver Stone's PLATOON, to bring Elroy Coffin's first big adventure to the big screen. Romano himself penned the screenplay adaptation. The film remains in development to this day.
Also in 2013, Romano was contracted by Amazon Kindle to write an all-new prequel thriller to the popular series of WAYWARD PINES novels. His fast-action mystery BEFORE THE FALL instantly shot to the top ten of the best-seller list. It remained one of the most popular selections on Amazon Kindle Worlds and Romano's first official best selling book. The Kindle Worlds line was unfortunately retired a few years later.
In 2014, Stephen's novel BLACK LIGHT sold to ABC Family as a television series. The project went into turnaround after Romano was nearly killed in a terrible automobile accident and spent most of that year learning how to walk again. Stephen kept on working hard, with the support of his friends and the community, and ultimately became whole again, though the bad leg still "hurts when it's cold... and when I take the stairs." He has enough metal in that leg to build a battleship. (That's a line he used later in one of his movies!)
In 2015, Romano's new thriller novel METRO was released by Simon and Schuster to rave reviews from hard hitters such as Joe Lansdale and Taylor Stevens. Romano also shared his RETRO 13 series for free at the popular horror blog Dread Central, where he continued to be a regular columnist for several years. RETRO 13 celebrates classic horror and science fiction films such as BLOOD BEACH and WAVELENGTH with retrospective articles and all-new poster illustrations by Romano. You can see those posters and read more about it right here at The Express.
In 2016, Stephen co-founded the independent publishing company EIBON PRESS, and its first release was the ten-year anniversary edition of THE RIOT ACT, which contained revised stories and a new afterword from the author. This was followed immediately by JULIA STARCHILD, a rollicking illustrated serial novel sequel to SHOCK FESTIVAL, posted for free here at The Express. (Check her out! She's totally hot!) Also released that year was Stephen's all-new story collection IT'S JUST US, which goes even further and darker.
Throughout 2016 and still to this day, the main business of Eibon Press is comic books. One-of-a-kind collector's comic books. Romano is the head writer, editor, art director and co-publisher of each and every title. He has resurrected his ZOMBIE graphic novel, based on the classic Lucio Fulci film, and expanded it into an ongoing series. In addition, a series based on Fulci's CITY OF THE LIVING DEAD is available, along with the hard-hitting original BOTTOMFEEDER, which Stephen describes as "HUMANOIDS FROM THE DEEP meet the BAD LIEUTENANT." That project was based on an "unfilmable screenplay" he wrote in 2010, which was too nasty for the screen. Believe us, kids, so is the comic book. You hear a lot of people crow about "extreme horror" vs "elevated horror" these days. BOTTOMFEEDER is a bizarre trainwreck of both, designed to gross you out and piss you off. The Dread Central review called it the "best horror film of 2018"... even though is wasn't a horror film.
Each year Eibon comes up with new and more amazing stuff, continuing to cement their reputation as the highest standard of excellence in the indie publishing world, with new "Psycho Fan editions" that are truly out of this world. The mission of Eibon is to provide "progressive art" through the genius of ages past in horror exploitation film, and unparalleled excellence in single issue comic books, utilizing innovative, never-before-seen "prestige packaging" in extremely limited collector's editions and they've been going hard for years, with HOUSE BY THE CEMETERY, MANIAC, MANIAC 2: ROADKILL, LASERBLAST and the amazing post-nuke sci-fi satire/brain-melt WASTELAND 1989, which is, on the surface, a tribute to Road Warrior-style movies, but is, in reality, something far more head-trippy. The invincible Janet of the Apocalypse spearheads the action, which unfolds over five intense chapters, each with an accompanying audio drama adaptation, on which Stephen serves as actor, composer, editor and sound designer, in a full circle from his early days, working alongside Image Comics.
Having returned with a vengeance to the TV movie world in 2017, Stephen has since written no less than ELEVEN feature films, starting with WEBCAM GIRLS, which was a popular success and a ratings sensation, even becoming a top trending topic on Twitter the night of its premiere on December 30, 2017. That was made back-to-back with YOU KILLED MY MOTHER, made second, though released a month earlier. These were followed by MY MOTHER'S SPLIT PERSONALITIES, DEADLY INFLUENCER, ESCAPING MY STALKER (Stephen's personal favorite of these), NEXT DOOR NIGHTMARE, TRIPLE THREAT, SHE IS NOT YOUR DAUGHTER and the upcoming A DEADLY MISTAKE and KEPT WOMAN KILLER. As of this writing (April 2022), Stephen is developing no less than five more of these films simultaneously, and is angling to direct his own movie soon. Each of the films he has written for Lifetime are "family friendly," but often contain a bit of the special edgy quality Stephen is so noted for. He also loads his "nice guy films" with Easter eggs for die-hard horror and sci-fi fans. You can't take that boy anywhere, it seems! For example, the hero in one of his movies (not telling which) is named after the guy who invented Robocop, while in yet another (still not telling which), the villain is named after the guy who invented Cyberyne Systems. (Nerdy enough for yah?) His directorial debut will be "something very different from all that," but he's tight on deets at the moment. We can only assume it's gonna be a bloodbath.
Oh yes, and let's not forget the time when Stephen locked himself in his house on his fifty-first birthday in the deadlock of Pandemic 2020 and wrote fifty-one short stories in twenty-four hours. Yeah, he actually did that. And he even collaborated on a few of those stories with his fans at Eibon Press. The book that resulted from Stephen's mad experiment was published one year later on November 12, 2021, and it's a bad motherfucker. The limited edition sold out in three days, but you can still get a copy at Amazon. It's called PROJECT 51.
And speaking of 2020, Stephen also made a really killer short movie that year, in collaboration with Actress/filmmaker Tonya Kay, whom he met on one of his Lifetime films. Stephen wrote the 30-minute script for EVERY DIGITAL GHOST in just one afternoon, and with no edits or notes of any kind, Tonya directed the film in a single take, using webcams. The result is a tense, confrontational dialogue between a man and a woman camming for the first time, after IM flirting online. Needless to say, it doesn't end well. The movie was an official selection at several prestigious film festivals in 2021, including IndieX, where it received an Outstanding Achievement Award for Mobile Short.
In 2023, Stephen sold his comic book company to indie video label Vinegar Syndrome, co-founding the all-new VINEGAR SYNROME PUBLIGHSING
Romano began to see the evils of online opinion-blogging and social media in 2018 and more-or-less officially retired from all that, but his old blogs and other muses about life, love and media form the basis of an upcoming nonfiction book, in which he talks about all of this and more. (I've read it. It rocks. Seriously.) Here at the Express you can still find the occasional news item and/or essay, plus the remains of Stephen's online life, including various links to his articles at other sites. And his hilarious 2014 HALLOWEEN FOR CHRISTMAS articles are still here, which he wrote while gorging himself on horror movies and learning how to walk again. You can locate that at The Express, but only if you look hard. (It's hidden good, just for the real fans.) Plus there's some other fun stuff you don't have to look too hard for, such as 60 YEARS WITH GODZILLA, Stephen's fun Wikipedia style "for dummies" primer to Toho Studios monster movies.
In spite of becoming a recluse from Social media, he still loves meeting his fans and manages almost every element of his website personally. The only thing not created by Stephen at The Express is this biography, written and updated semi-annually by one of his bitter ex girlfriends. (She wants actual MONEY the next time you call her to do this, Stephen!) Drop him a line here. The message will get to him. If you don't receive a response right away, that means deadlines are killing his ass. But he DOES see every message that comes through here and TRIES to respond. Serious inquiries about work in his specialized industries will be prioritized first of course. If you just wanna say hi and he doesn't get right back to you, try again. Persistence pays. Oh, and between you and me, he LOVES IT when someone finds one of his Lifetime Easter Eggs. (See above.) Put that in your letter and he'll totally write back. Probably.
(The bitter ex took this picture, too! That's what he looked like in 2010, when he was young and hot.)
TW