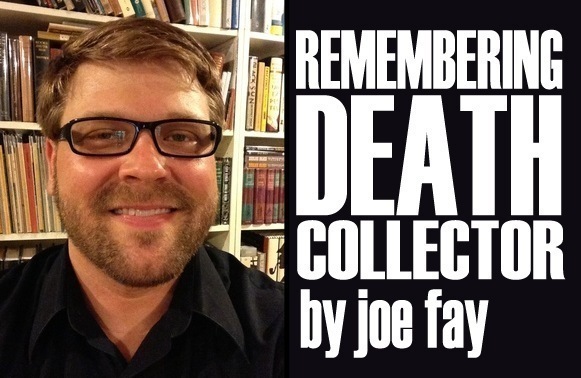 Almost a year ago, I moved from Dallas, Texas to New Haven, Connecticut. Within a couple weeks of moving here, my friend Mike Malloy wrote me that his "favorite New Haven movie" was Death Collector. I'd never heard of it, but knew I had to check it out because Mike doesn't recommend bad movies, and when he does, they're great. Quickly, I learned that Death Collector was filmed entirely around the New Haven area, was highly sought-after by VHS collectors, had been released on DVD by a budget label—and it starred legendary genre writer PHIL NUTMAN as the bad guy's enforcer. Not to mention RUTH COLLINS from Cemetery High as the love interest, and "Splatterpunks" John Skipp and Craig Spector had brief cameos near the end. Sold.
Also shortly after moving here, I hooked up with a local theater called Lyric Hall. The owner, John Cavaliere, has allowed me the ongoing privilege of programming movies for the theater. We've shown a month of Vincent Price movies (even hosting Price's daughter, Victoria before our screening of House on Haunted Hill), played Night of the Living Dead on Halloween night, showed Boyhood a few days before it should have won Best Picture at the Oscars, and some other things. But the unquestioned highlight of my eight months of programming so far was Friday, March 13: Death Collector night.
Tom Garrett directed Death Collector, shortly after film school in New York. At present, he is a film professor at Sam Houston State in Huntsville, Texas. And he's on Facebook. So I contacted him just after the new year, and pitched the idea of showing Death Collector to its hometown. He couldn't possibly have been more accommodating, excited, and supportive. We hammered out a date for the screening, and agreed to conduct a Q&A via Skype after the movie. Furthermore, he would arrange for Ruth Collins and the screenwriter, John McLaughlin, to Skype with us. Closer to the day of the event, I invited Mike Malloy to join us, too. He and Tom are friends, and have been so since Mike wrote an article on Death Collector for Cult Movies magazine in 2003. In the weeks leading up to the screening, Tom told me there was a very good chance he would actually FLY TO NEW HAVEN for the event. I refused to believe it would actually happen.
And then it did. About three weeks before the screening, Tom wrote me that he had a plane ticket for March 12. He would see me at Lyric Hall on the night of the Death Collector screening. To paraphrase Manager Lou Brown of the Cleveland Indians in Major League, things were starting to come together, pepper.
Friday, March 13. Friday the 13th. It's always been a fun day for me. Traditionally, I watch at least one of the Jason movies on that date; sometimes, I watch a lot of them. And out of all the special Friday the 13ths I've lived, this one topped them all. I took the day off from work to get ready. I went to the Hall in the early afternoon to test run the Skype. Ruth Collins, John McLaughlin, and Mike Malloy were ready, and the Skype was set. I told each of them we'd reconnect after the screening.
I arrived at Lyric Hall about an hour ahead of showtime. I had created a preshow video playlist for the movie, with trailers of other Ruth Collins movies, vintage bowling footage, clips from other movies written by John McLaughlin (including major Hollywood stuff like Hitchcock, Black Swan, and Parker), a special video for Phil Nutman, created for his memorial by none other than Mike Malloy, and more. I made sure all the footage related in some way to some aspect of Death Collector. And yes, that includes vintage bowling footage. If you've seen the movie, you know why.
Shortly, the crowd started to arrive for the screening. The first several groups were family members, friends, and folks related to the making of the movie. Understandable. Most of these people had either never seen the movie, never seen it in a theater with the public, or never seen it at all. It had been twenty-seven years since the movie was finished, and it didn't exactly enjoy a long theatrical run, or even a wide video release.
When Tom arrived, it was like seeing an old friend again. We hugged and exchanged pleasant hellos and great-to-finally-meet-yous. Then Tom was swallowed by a crowd of friends, family, and colleagues, some of whom hadn't seen him since the movie's premier. Smiles all around. We held the start of the movie over for fifteen minutes to allow for late arriving fans, one of whom brought his Rae-Don Video VHS copy of the movie.
After introducing the movie, I sat in the lobby in case we got more late arrivals, and to make sure everyone got a seat in the crowded theater. Sitting outside, I enjoyed listening to the crowd experience the movie. There was a lot of laughter, and more than a few moments of recognition. Occasionally, someone asked Tom a question during the movie, or pointed out a name of someone on screen. It was exactly the type of coming-together that I wanted. The spirit in the Hall that night was not just positive, but positively ebullient.
About halfway through the movie, Tom joined me in the lobby. We talked about the movie and the event. He hadn't seen the movie in twenty-seven years, either. We talked about living in Texas, about coming home, about the importance of reparatory programming, and more. For the first time of several times that night, he called our event his "George Bailey moment." Proof of his wonderful life. Those were magic words to me, and all I needed to know that the night was successful.
The second the movie ended, someone in the crowd shouted, "Masterpiece!" And a shower of applause rained down. I ran into the theater to set up the Skype, and more magic followed. And more smiles. I moderated the discussion between Tom, Ruth, John, and Mike, but mostly tried to stay out of the way. These folks were clearly having fun reminiscing about Death Collector, and far be it from me to interfere. I made sure to bring up Daniel Chapman and Phil Nutman, two main players in the movie who have since passed away—gone, but certainly not forgotten, certainly not to those involved with Death Collector.
Stephen Romano is one of my few brothers from another mother in this world. He's also a fine author and unique artist. Shock Festival is the work of particularly-tuned genius. And he continues to churn out amazing movie posters for a wide variety of films. So, when I thought about creating a movie/event poster for Death Collector, Stephen was my only choice. But would he do it? Good God almighty, DID HE!? The proof is in the poster, one that has met with universal acclaim by those involved with the movie, and really anyone who has seen the damned, beautiful thing.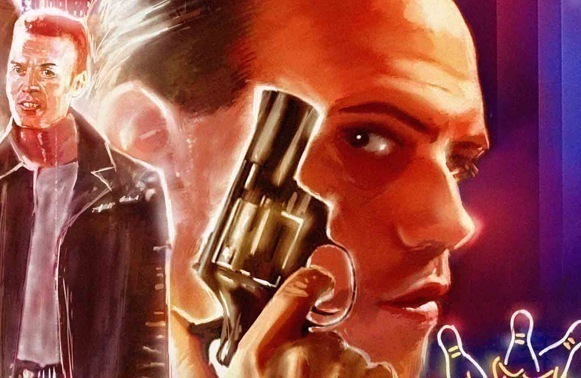 Ahh, gee, Joe, thanks! And good on you for preserving history at the Lyric Hall. Anyone reading this should definitely visit old Joe at the Lyric if you're ever in New Haven when he's pulling one of these events together. They have fun!
S and J