Wow. Has it been 13 weeks already since we started this fucking thing? Nuts, man. Just NUTS. It seems like a lifetime ago that we trucked onto BLOOD BEACH, and today we're finally trotting out THE PHANTOM . . .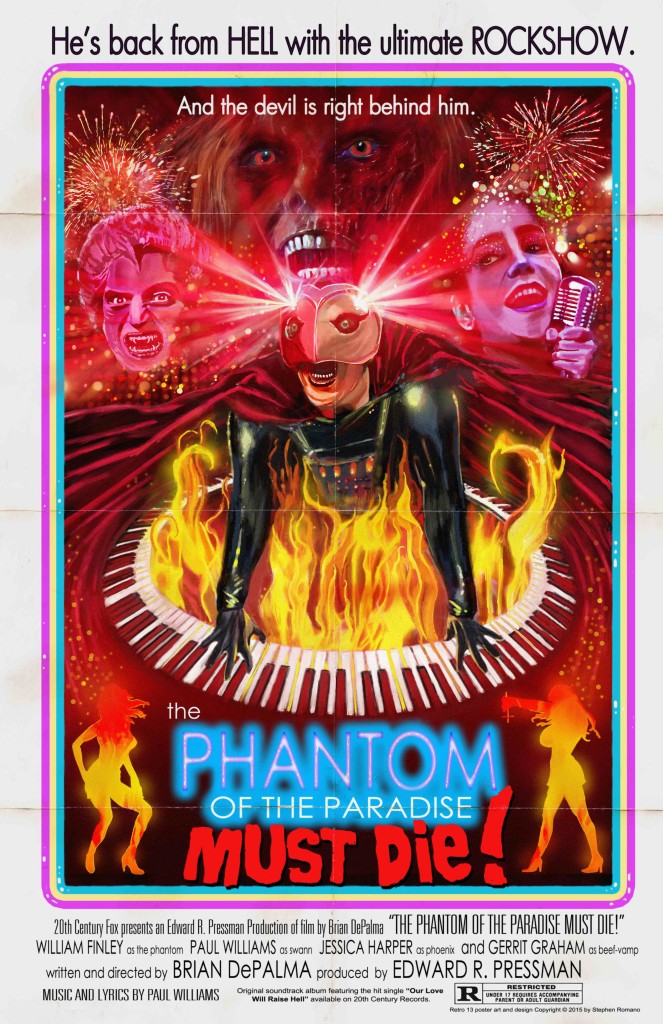 As you can see, this final poster is really awesome and it's the first and only time I've posted the entire image here at The Express. To learn more about my nutty "period piece" sequel to the immortal cult classic, click on the image and go to Dread Central to bathe on the glory of Winslow Leach and his nutty gang.
And speaking of Dread Central . . .
I must say a final word of thanks to Steve Barton and his ladylove Debi Moore over at that amazing website, who have been my friends and partners in horror for almost two decades. They have always been good family, supporting my life and work in all its varied forms over the years. When my book SHOCK FESTIVAL emerged in 2008, they were that project's most constant and vocal supporters, and I even showed my gratitude by immortalizing both of them in its pages. Steve and Debbi agreed to give my Retro 13 a home when other avenues failed, and I am grateful as hell for that also. It's a been a really fun run.
And now that I'm done giving Academy Award speeches, here's word or two about this week's poster:
FUCK YES.
THE PHANTOM OF THE PARADISE MUST DIE is another one of my "mind movies" from ages past which I talked about last week. The kind of fever dream a fanboy cooks up on long walks when his mind has nothing better to do than imagine and reimagine. I've directed this film a million times in my head. I know every downbeat of the music and every pan of the camera. When I first envisioned this thing as young man child of 21, my skills as a finishing artist will practically nil—and yet I scribbled various crude poster ideas out on napkins and scraps of paper, storing them away for a rainy day. When it came time to do RETRO 13, I realized this was the perfect excuse to haul out those scribblings and execute the poster for real. This also felt right because there is already so much Phantom fan art out there on the internet and this series has always been about finding bold, weird new takes on classic film icons.
I particularly like this image PICTURED ABOVE, which was commissioned by a die-hard fan group to champion the film's 30th anniversary. You can jump to THE SWANN ARCHIVES by clicking that image, which may be the most dedicated and comprehensive fan site devoted to a single motion picture.  Yes, the Phantom Phans are a die-hard bunch, and I salute the living shit out of them.
And speaking of fans . . . if YOU happen to be a fan, or even a causal observer of the legendary Paul Williams, star of PHANTOM OF THE PARADISE, you could do a lot worse than to check out this awesome documentary: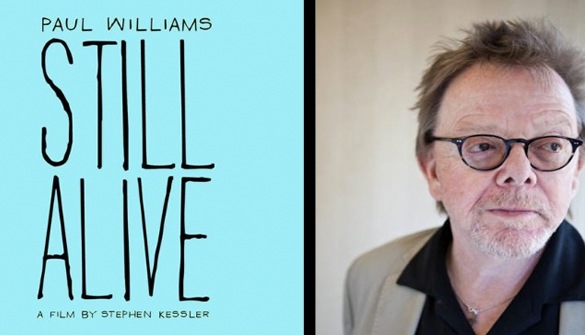 Bravely directed by the helmer of VEGAS VACATION, who (seemingly unwittingly) becomes a co-star in his own film, STILL ALIVE is a remarkable document of one fan's journey through a very dark night, as he seeks to evaluate and understand his childhood idol.  We see a very different Paul Williams looking in abject terror back on his drug crazed youth as a unique superstar ("Special but not different") in a garish 1970s nightmare, as his Number One Fan struggles to keep pace, ultimately confronting some hard truths, and facing his own directorial reflection in a very tainted mirror.  It is, bar none, the finest, most unusual entertainment-industry documentary feature released in the last 20 years, and one of the best movies I've ever seen: a searing indictment that somehow manages to put the entire proess of telling behind-the-scenes stories about iconic personalities into a true and lasting perspective.  Watch it.  You may even learn something about yourself.
PHANTOM OF THE PARADISE, like such great works, also tells us about ourselves, and is also one of the best films ever made. Enough has been written about Brian DePalma's one-of-a-kind horror-comedy-musical freakout (see The Swann Archives), so I'll just let this week's RETRO 13 speak my love for the film by making two of a kind.  (HAH!  Take that, irony!)  It was truly fun to return to my old childish doodlings and resurrect a cherished "dream project."  I basically stuck with the template of those doodles in creating the iconic image of Winslow Leach for PHANTOM MUST DIE. The Phantom himself was drawn and painted almost completely wild, without reference to the film, and I gave him a cool new red cape (because he's back from hell, dummy!) and a wild new piano, which is, of course, the gateway to The Very Bad Place. The images of Garret Graham and Jessica Harper were painted from reference stills. The looming specter of Paul Williams as Swann is inspired by the original film's poster, but goes in a gruesome new direction. I hope you dig on this one. It's among my very favorite images from this series.
FUN PHANTOM STORY WITH NAME DROPPING #666: I was reminded recently of the time when I met Guillermo Del Toro, and we watched his vintage print of THE PHANTOM OF THE PARADISE after-hours at the Alamo Drafthouse.  This was more than 15 years ago.  Guillermo had just directed BLADE II and the film hadn't even been released yet.  He was an amazing, excitable fanboy who was oddles of fun to, you know, just hang out with.  We sat together in an an empty theater (the old ORIGINAL Alamo location downtown on Colorado Street in the years before it became a national franchise/film distribution company), and the experience was truly amazing because Guillermo wouldn't shut up though the whole movie and kept shouting things like "listen to the SCORRRE!" and how this film was "my favorite FUCKING MOVIE OF ALL TIME!"  It was a glorious evening.  My favorite bit was the moment where Winslow Leach signs his name in blood to the devil; Guillermo litrerally stood up and SCREAMED at the top of his lungs: "I SIGNED THAT FUCKING CONTRACT WITH MIRAMAX!!!"  These are the moments that keep me warm, people. For realises.  (Thanks, Bettie, for reminding me to tell you about that!)
And in case this hasn't been enough . . .
well, to tell a secret, my Number ONE favorite Retro 13 poster was only just recently completed.
And we haven't even shown it yet.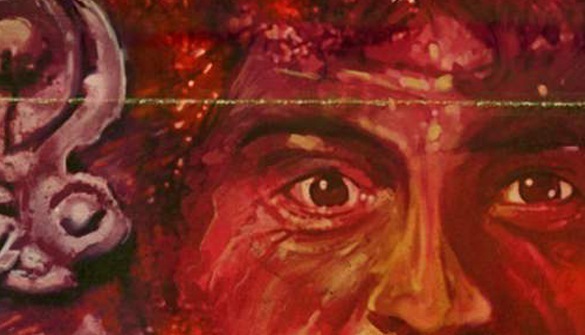 There will be SUDDEN DEATH next week.
Be very afraid . . .
S