Well folks, it's that time of year again!
Time for another one of my "online gallery exhibits."
Remember Retro-13?  That was real fun, huh?  Well, this year you'll be getting lots of cool retro-style science-fiction posters, but we're doing something a little different, too.  This year, I'm telling the wild, epic story of Juila Starchild, a fictional movie series made in the 70s and 80s.  As with RETRO 13, the posters may only be seen exclusively at Dread Central as I first roll them out.  You can click on the IMAGE ABOVE  to jump right to Dread Central and see the first poster in the series, along with some swell introductory ramblings.
To read the first chapter of Julia's remarkable behind-the-scenes story, click JULIA'S NAME, below.
It's an epic that I promise won't soon forget.
And this is just the beginning.
For those who may be interested, this week's Julia was inspired by my all-time favorite Playboy centerfold, the awesome Julia Lyndon, Miss August of 1977.  Ain't she pretty?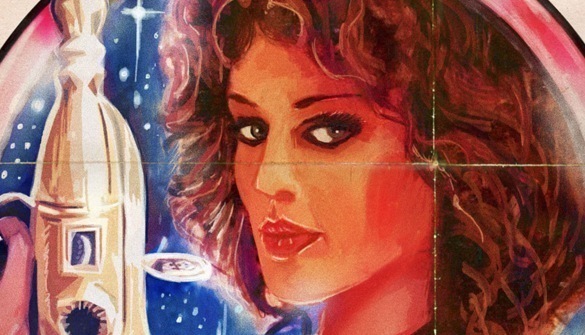 Other women were key inspirations for this series, but you will discover them as we go.
For now, enjoy Julia's first film, and the dark and cautionary tale of the men who made her and loved her, all the years of her life.  This is my latest novella and my latest art series, and I'm giving it all away for free, here at the Express and over at Dread headquarters.  Why?  Because I RULE, obviously.
So what are you waiting for?  Go for hyperspace!
Julia is just a universe away . . .
S